Aquarium Heaters
Heaters are essential for any Tropical fish requiring a constant heat source and Stability of Temperature. Providing your fish with this equipment is necessary as to help with Overall health and also reduce stress on your fish.
All heaters are Thermostatically controlled and always have to be fully submersed for maximum efficiency (Unless using an Inline Heater). As well as having the option for a Thermosafe Heater, which can with stand being out of water without the glass smashing due to excess heat when doing water changes etc.
We carry a Wide range of Heaters, whether your Aquarium be a small bowl or a much larger system, we have all you need to keep your fish happy.
EHEIM JAGER HEATERS : Thermo-safety control (Auto-Shut/off), Made from Stable Glass, Precise Temperature Regulation, Off/On Indicator light, Extra Long Cable, Suction cups included, Suitable to Marine and Freshwater.
SHOGUN HEATERS : LED Temperature Display, Precise Temp Control, Energy Saving, High Wattage for larger Aquariums (Up to 500Watt).
AQUA ONE THERMO : Shatter Resistant Quartz Glass, Micro chipped Thermo-safety Control, Off/On Indicator Light.
NANO HEATERS/HEAT PADS : Suited to much Smaller Aquariums like Bowls or Small Nano tanks. Thermostatically controlled (Auto-Shut/off).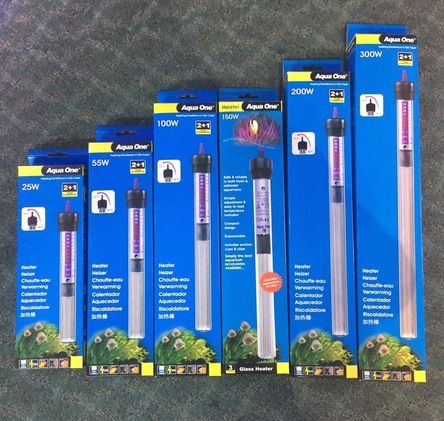 Contact Annerley Aquarium